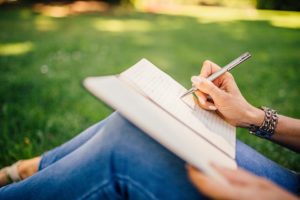 November is National Novel Writing Month. Join writers around the world as we strive for 50,000 words in 30 days! This year the Morse Institute Library is excited to participate in the project – bring your laptop or notebook to one of our write-ins happening November 3, 12, and 17. We'll have cookies and coffee available for writing fuel, and you can collaborate and commiserate with your fellow writers as you get a few hundred words closer to your goal.
Can't make it to a write-in? Stop by the Reference Desk for books and worksheets to help you get past your writer's block. And make sure you are following the Morse Institute Library on Facebook and Twitter for tips, tricks, and inspiration all month long!
---
For this and more stories from the library delivered right to your inbox, subscribe to our weekly email newsletter! We'll be sharing news from the library, help you plan out your weekly schedule with our calendar of great events for the whole family, and give you plenty of reading suggestions! Enter your email below and start enjoying Morse Messages – thanks!