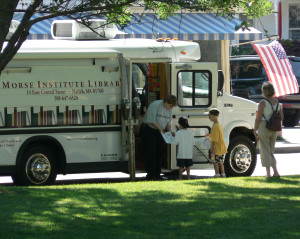 The Morse Institute Library Bookmobile allows us to bring the library to those who might not be able to visit our historic building. Since the Bookmobile first started providing service to homebound seniors over 65 years ago, our outreach to the community has grown. The Bookmobile now visits senior housing, assisted living, nursing and rehab facilities.
During the summer, the Bookmobile visits neighborhoods and community celebrations like the Family Night on the Common. Through the Bookmobile, we are able to provide access to library materials to streets across Natick, including the U.S. Army Soldier Systems Center. Check out our online calendar to see when the Bookmobile will be in your neighborhood, and don't forget to stop by and introduce yourself to Rose Huling, Bookmobile Librarian. Rose really is working to put a book in the hands of everyone in Natick!
---
For this and more stories from the library delivered right to your inbox, subscribe to our weekly email newsletter! We'll be sharing news from the library, help you plan out your weekly schedule with our calendar of great events for the whole family, and give you plenty of reading suggestions! Enter your email below and start enjoying Morse Messages – thanks!