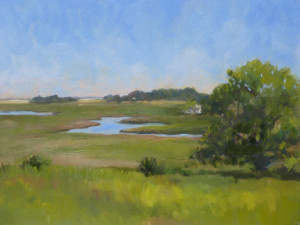 Wellesley Society of Artists
First Floor Galleries and Lebowitz Meeting Hall, lower level
The Wellesley Society of Artists (WSA) is a community of artists founded in 1933 for the purpose of encouraging and supporting local artists, and for promoting fine arts in Wellesley. WSA objectives are to give members an opportunity to exhibit their work and provide a supportive environment. The Joy of Painting, on view throughout the Morse Institute Library, is a group exhibit featuring approximately 60 works by WSA members.
---
Craig Bystrynski: Photography
Virtual Gallery, First Floor
Craig is a Natick resident, who uses photography as a way to enjoy and explore our natural surroundings. Nature photography required time and patience, a welcome contrast to the demands of daily life.
---
Sound & Spirit Choir: Vines, Upcycled Materials
Atrium Stairwell
The Sound & Spirit Choir of Natick created the installation "Vines" using upcycled materials to represent their collective inter-generational commitment to preserving our beautiful planet.
---
Wake Up America! Natick in the First World War
Historical Exhibit Case, First Floor
A collaboration between the Natick Historical Society and the Library, this exhibit is a snapshot of Natick and its citizens a century ago including photos, documents, arts and more.
---
Portraits from the Legacy of Service Collection
WWII Photos, First Floor, Vietnam Era Photos, Second Floor
Photos collected by the Morse Institute Library, Legacy of Service Exhibit, Natick Veterans Oral History Project, and photos donated by local families.