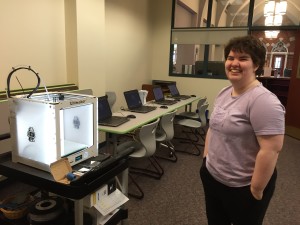 Our new partnership with MassBay Community College has brought an intern into the library. Corinne Kennedy, a student in the TRANSFORM program for Advanced Manufacturing at MassBay, is here to assist with designing and creating your own projects using computer aided design tools and produce these designs on our 3D printer.
"Advanced manufacturing aligns with the library's goals to offer Science, Technology, Engineering, Arts, and Math (STEAM) tools for our community," said User Experience Librarian Dave Bartos. "By facilitating hands-on learning with patrons of all ages, Corinne will expand learning opportunities, allowing all of Natick to make something new." Drop in to the Innovation Studio Thursdays from 6-8pm and Saturdays from 11am-1pm to learn about 3D printing and see what you can make!
Learn more about 3D Printing and start your own designs at morseinstitute.org/3d.
---
For this and more stories from the library delivered right to your inbox, subscribe to our weekly email newsletter! We'll be sharing news from the library, help you plan out your weekly schedule with our calendar of great events for the whole family, and give you plenty of reading suggestions! Enter your email below and start enjoying Morse Messages – thanks!