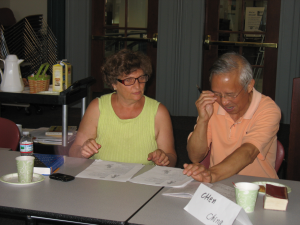 Thanks to a generous grant of $15,000 from Middlesex Savings Charitable Foundation (MSCF), we'll be able to meet our goal of becoming a welcoming library for all in Natick! Our English Language Learning (ELL) program provides English Language classes, conversation groups, and tutoring. This grant will help us continue this great work, as well as providing funding to add international language books and ELL training materials to our collection. We are also excited to provide additional signage and materials to make the library easier to use for the ELL community.
The Morse Institute Library is one of the few places in the area for English language classes and tutoring for adults. As Natick as become more diverse, we've seen our ELL services grow and we're so excited that Middlesex Savings Charitable Foundation is joining us in supporting ELL material and services at the Morse Institute!
---
For this and more stories from the library delivered right to your inbox, subscribe to our weekly email newsletter! We'll be sharing news from the library, help you plan out your weekly schedule with our calendar of great events for the whole family, and give you plenty of reading suggestions! Enter your email below and start enjoying Morse Messages – thanks!