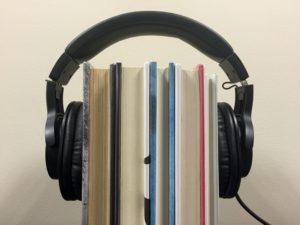 A recent Boston Globe article says it all: "Audiobooks are booming." Audiobooks are one of the fastest growing segments in publishing, and the library has titles and formats to fit everyone's needs. Community Relations Coordinator Anna Litten is one of the many library users who love audiobooks. "Loading up my phone or iPad with audiobooks for the whole family is one of the most important things I do to get ready for any road trip. Our whole family loves listening to audiobooks in the car, and finding titles that everyone from 6 to 46 can enjoy together is a fun challenge."
Our staff purchases popular audiobook titles for kids, teens, and adults. OverDrive gives library patrons access to free audiobooks available for download straight to a mobile device. Still prefer CD? We've recently freed up more space to make our books on CD collection easier to browse. Want the ease of MP3 without a download? Playaways are single-title individual MP3 players. All you need are batteries and headphones, and you're ready to listen!
---
For this and more stories from the library delivered right to your inbox, subscribe to our weekly email newsletter! We'll be sharing news from the library, help you plan out your weekly schedule with our calendar of great events for the whole family, and give you plenty of reading suggestions! Enter your email below and start enjoying Morse Messages – thanks!