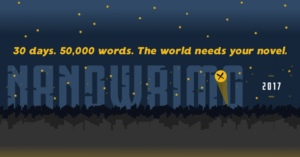 November is National Novel Writing Month! "One part writing boot camp, one part rollicking party, National Novel Writing Month (NaNoWriMo) celebrates its 19th year of encouraging creativity, education, and the power of the imagination through the largest writing event in the world."
This year we are pleased to offer talks by three local authors, designed to propel you toward the goal of writing 50,000 words in 30 days. Each talk will be followed by a write-in, so bring your favorite writing gear and get a few hundred words closer to your goal! Check out morseinstitute.org/novel for full program information.
The Morse Institute Library is just one of the many Minuteman Library Network libraries that are hosting NaNoWriMo activities this year. Check out this flyer to see what our colleagues have in store for you [PDF]!