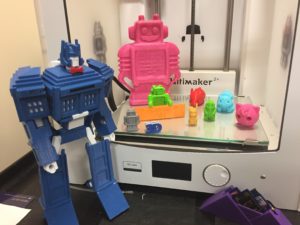 The Morse Institute Library has an Ultimaker 2 3D Printer. The Ultimaker 2 is a fused deposition modeling 3D printer that works on an additive principle, layering printing material to build up a three-dimensional object. Whether you're prototyping a machine part, working on a three-dimensional art project, or just wanting to learn more about how to design and build in 3D, 3D printing at the library is a community resource that can be used by anyone!
How can I use it?
3D prints can usually take several hours to complete. We ask that you submit designs to print in advance via . Following your submission, we will contact you with a price quote for printing your design, an estimated wait time for delivery of your design, and to go over your print options. Cost for 3D prints is $0.25 per gram. Material for the 3D printer comes in a variety of colors, and prints can be completed at different qualities.
This process will help to ensure that those wanting to use the printer will have the opportunity. While we will estimate your wait time, the Library makes no commitment to being able to produce print submissions in a specific time frame. We will choose the order in which jobs are printed to maximize efficiency and give as many people as possible a chance to obtain a print.
Save your design in the STL file format and send at an attachment to .
Learn More at a 3D Design Workshop!
We've always got drop-in 3D Design labs on the schedule, as well as hands-on workshops taught by our staff and experienced design professionals! Check our calendar for upcoming labs and to sign up for workshops!
How can I create a design?
There are many free-to-use programs available for designing and seeing other's designs in 3D:
Autodesk 123D has a whole suite of 3D tools available, including 123D Design downloadable application and Tinkercad browser application.Tinkercad Tutorial
Thingiverse is an online community where you can share your own 3D designs, and browse others in their community.
OpenSCAD is a free software that focuses on the computer assisted design aspects of 3D modelling. Ideal for creating 3D models of machine parts.
Sculptris is a free software download that lets you sculpt a sphere of virtual clay into whatever you want it to be. Great for artists and 3D character designs.
As we develop our 3D resources, we will make certain programs available on our public computers.
What is a 3D Printer?
A 3D printer is a device for making a three-dimensional model from a computer generated digital design. Successive layers of material are laid down in different shapes to form the object.
Why is it important?
The Ultimaker 3D Printer aligns with the library's goal to offer Science, Technology, Engineering, Arts, and Math (STEAM) tools for our community. Part of our Innovation Studio, the Ultimaker 2 is available to offer hands-on opportunities for our community to learn about this emerging technology through workshops and open lab time.
Personal manufacturing is going to have increasingly profound social impacts, much of them in ways that have yet to be anticipated. The library wants to bring to Natick the concepts of what 3D printing and personal manufacturing are all about, along with an understanding of the design skills needed to take full advantage of the creative opportunities that are arising. Natick is a tremendously creative community, and the library is excited to be able to offer access to another avenue for the expression of that creativity.
"A commitment to STEAM means creating opportunities for our library community to explore and experiment. I'm excited that the Morse Institute is able to help facilitate discovery and learning in our new Innovation Studio." – Library Director Linda Stetson
Guidelines for use
All builds must be scheduled in advance by emailing
All designs must be submitted in an STL file format
3D printer builds can take hours so patrons must leave their email address and phone number
If a build is too large or complex we may suggest a commercial service
No hazardous or offensive items
The library reserves the right to decline any print job
Patrons will pay for material used on their build by weight, including the weight of any aborted or flawed prints. Payment is to be made at time of pickup.
We will assess a charge of $0.25 per gram, as estimated by the printer software. We will give you an estimate of this cost during a follow-up contact from our staff.
During our follow-up we will ask for other options related to your print, such as material color and print quality.
The Morse Institute Library 3D printers and related equipment may be used for lawful purposes in compliance with library policies. Patrons may not upload, transmit, display, or create content that violates any law, privacy or property right. Please be aware that prints themselves may occur within public view and that the library does not make any promise that any particular print will not be seen by members of the public. We do consider that the identity of the submitter of a job will fall under the same legal protection that extends to the privacy of the intellectual content of borrowers of library material. The Morse Institute Library reserves the right to refuse to scan or print any object.