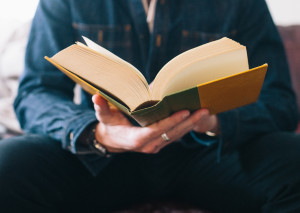 You enjoy reading, why not join us and talk about it! Covering many different genres, our library book groups meet regularly to discuss the issues and situations that arise in our monthly selections. We also enjoy meeting friends new and old! New members are always welcome so check out what we have to offer, stop by to pick up the current book selection and bring your fresh opinions to our conversation!
Current titles are always available at the circulation desk on the first floor. For more information about any of our book groups call us at 508-647-6520 or contact the library team members below.
Upcoming Book Groups
Check our event calendar for upcoming book group meetings.
Wednesday Morning Book Group
Meeting the third Wednesday of the month from September to June, Karen Perkins organizes our Wednesday morning book groups. Book selections often follow a theme in order to fully explore concepts over several months. Come share your thoughts with the group over a cup of tea! For more info contact Karen at 508-647-6520 or , and check out the Morning Book Group Blog.
Wednesday Evening Book Group
Meeting the last Wednesday of every month (except December), Jen McGillis facilitates our Wednesday evening book groups. Jen's goal is to choose a book that will lead to a good discussion. Drawing from a wide variety of genres this group focuses on three dimensional characters and how they respond to real life issues. For more info contact Jen at 508-647-6520 or , and check out the Evening Book Group Blog.
Graphic Novel Book Group
Thanks to your support the Graphic Novel Book Group will be continuing into the year! The Graphic Novel Book Group meets on the second Thursday evening of the month. Dave Bartos from the Morse Institute Library and Meena Jain from the Bacon Free Library will explore the graphic novel movement with some of the groundbreaking books that helped the genre rise to literary significance. For more info contact Dave at or Meena at , and check out the Graphic Novel Book Group on Goodreads.