Connecting your own devices
Free Wi-Fi is available throughout the library. Our network is Library and the password is morselibrary – if you need further assistance connecting your device please visit our reference desk on the 2nd floor.
To print from your device, you can email documents as an attachment to . Cost for printing is $0.15/page (black and white or color), and you can pick up prints at the Reference Desk on the 2nd floor.
Technology for Adults and Teens
Visit the second floor to use:
Public computers with Internet access and Microsoft Office 2010
Black-and-white and color printing ($0.15/page)
Scannx Book ScanCenter – scan books and documents at no cost. Then send the scanned files to your email, smartphone, Google Docs, or USB flashdrive. Scannx can also be used to send a fax ($1.00/page) or print ($0.15/page).
Black-and-white copiers and two microfilm readers with printers attached. Copies cost $0.15/page.
Our computers are available for one hour sessions. If there is not a wait list, your session may be extended for more time.
If you don't have a Minuteman library card, guest passes are available for computers.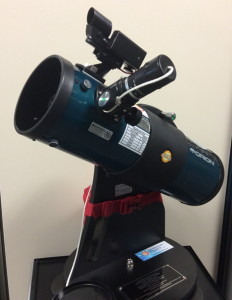 Orion StarBlast Telescope
Discover a sky filled with star clusters, planets, galaxies, and nebulae right in your own backyard! The Orion StarBlast Telescope is easy to use, with no assembly needed for viewing. With a relatively large optical tube, the Moon, planets, and deep sky objects will show far more detail than one could see with other beginner telescopes.
Reserve the Telescope kit using on our online reservation system.
The Telescope Kit is available to any Minuteman Library Network card Holder, age 18 and older with a library account in good standing. The kit is loaned for one week with no renewals, and a $3.00 per day late fee. If the telescope kit is not picked up on the reservation date, the reservation will be cancelled.
The Telescope kit includes:
Orion StarBlast Reflector Telescope with attached EZ Finder targeting system and Explorer II zoom eyepiece
Telescope instruction manual and stargazing tips
National Audubon Society pocket guide to constellations
Red and white light headlamp
This telescope was donated to the library through funding by MathWorks of Natick and is supported by the Aldrich Astronomical Society, Inc.
Technology for Children
The children's room has computers available. Children may sign up for 30-minute computer sessions.
CD Listening Stations
We have CD listening stations that play regular and MP3 CDs. One listening station is in the Children's Room, one is on the first floor, and one is on the second floor.
The CD listening stations were donated by the Friends of the Morse Institute Library.