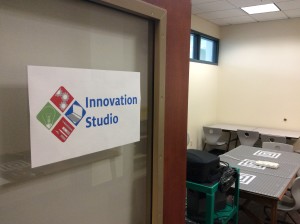 The Innovation Studio is a place for the library to offer more Science, Technology, Engineering, Arts, and Math (STEAM) programs and tools for our community. With this dedicated learning lab we will be offering hands-on opportunities for our community to learn more about new and emerging technologies at library workshops and open labs.
"A commitment to STEAM means creating opportunities for our library community to explore and experiment. I'm excited that the Morse Institute is able to help facilitate discovery and learning in our new Innovation Studio." – Library Director Linda Stetson
Technology in the Innovation Studio
3D Printing
The Morse Institute Library has an Ultimaker 2 3D Printer. The Ultimaker 2 is a fused-deposition modeling printer that works on an additive principle, layering printing material to build up a three-dimensional object. Whether you're prototyping a machine part, working on a three dimensional art project, or just wanting to learn more about how to design and build in 3D, the library's 3D printer is a community resource that can be used by anyone!
How can I use it?
3D prints can usually take several hours to complete, and we ask that you submit designs to print in advance. We will add these to our print queue, giving you a price quote for printing your design and an estimated wait time for delivery of your design. This process will help to ensure that those wanting to use the printer will have the opportunity. While we will estimate your wait time, the Library makes no commitment to being able to produce print submissions in a specific time frame and will choose the order in which jobs are printed to maximize efficiency and give as many people as possible a chance to obtain a print.
Email to submit a design to print.
For more information and our 3D print policies please visit morseinstitute.org/3d.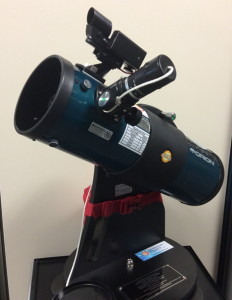 Orion StarBlast Telescope
Discover a sky filled with star clusters, planets, galaxies, and nebulae right in your own backyard! The Orion StarBlast Telescope is easy to use, with no assembly needed for viewing. With a relatively large optical tube, the Moon, planets, and deep sky objects will show far more detail than one could see with other beginner telescopes.
Reserve the Telescope kit using on our online reservation system.
The Telescope Kit is available to any Minuteman Library Network card Holder, age 18 and older with a library account in good standing. The kit is loaned for one week with no renewals, and a $3.00 per day late fee. If the telescope kit is not picked up on the reservation date, the reservation will be cancelled.
The Telescope kit includes:
Orion StarBlast Reflector Telescope with attached EZ Finder targeting system and Explorer II zoom eyepiece
Telescope instruction manual and stargazing tips
National Audubon Society pocket guide to constellations
Red and white light headlamp
This telescope was donated to the library through funding by MathWorks of Natick and is supported by the Aldrich Astronomical Society, Inc.