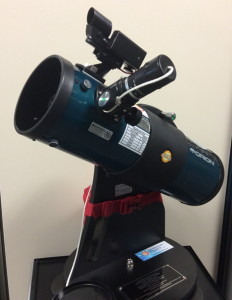 Discover a sky filled with star clusters, planets, galaxies, and nebulae right in your own backyard with the Orion StarBlast Telescope! This amazing resource was donated to us through funding from MathWorks of Natick and is supported by the Aldrich Astronomical Society, Inc.
This telescope has been modified by members of the Aldrich Astronomical Society so that it is easy to use, with no assembly needed for viewing. With a relatively large optical tube, the Moon, planets, and deep sky objects will show far more detail than one could see with other beginner telescopes.
This telescope kit can be reserved using on our online reservation system. The telescope kit is available to any Minuteman Library Network card holder, age 18 and older with a library account in good standing. The kit is loaned for one week with no renewals, and a $3.00 per day late fee. If the telescope kit is not picked up on the reservation date, the reservation will be cancelled.
The Telescope kit includes:
Orion StarBlast Reflector Telescope with attached EZ Finder targeting system and Explorer II zoom eyepiece
Telescope instruction manual and stargazing tips
National Audubon Society pocket guide to constellations
Red and white light headlamp
Check out the telescope and get a closer look at the stars and planets around us with your family and friends!
Reserve the telescope today!